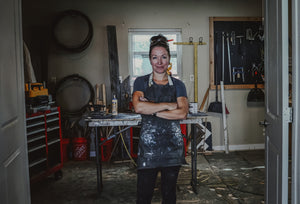 The drawback of a unique art piece is patience. There will be a periodic restock of items, but these pieces take time to create and source the perfect reclaimed wood. So be patient! If you do not get a piece in this round, follow me on Instagram @emdesigns406 and stay tuned for a new collection! Maybe the perfect piece for your home is still in the walls of an 1800's farmhouse, waiting for it's chance to land on my workbench and be a part of your home.
These rounds are framed with reclaimed Whiskey Barrel Rings. Each ring is chosen for it's patina. There are some amazing colors that are found in reclaimed items. They do
have their natural wear.. dents, rust, just imagine the life that
they have had before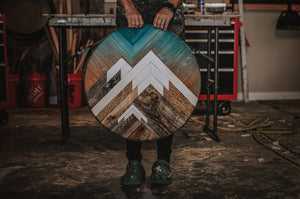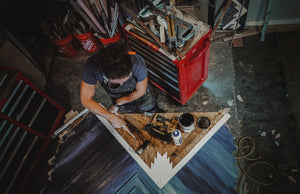 I believe the art piece you choose for your home should be yours, not something you will find on the walls of any other home. That is why the pieces are unique. Your art piece is created with a free flow method, these designs are not pre-drawn, they come to life on the work bench, each piece of reclaimed wood is carefully selected to compliment the next. I mix in laser art items to create a blend of old and new. These pieces were created in a little shop in my Montana home and are inspired by the views I am blessed to enjoy.